Special 2.5-hr Tour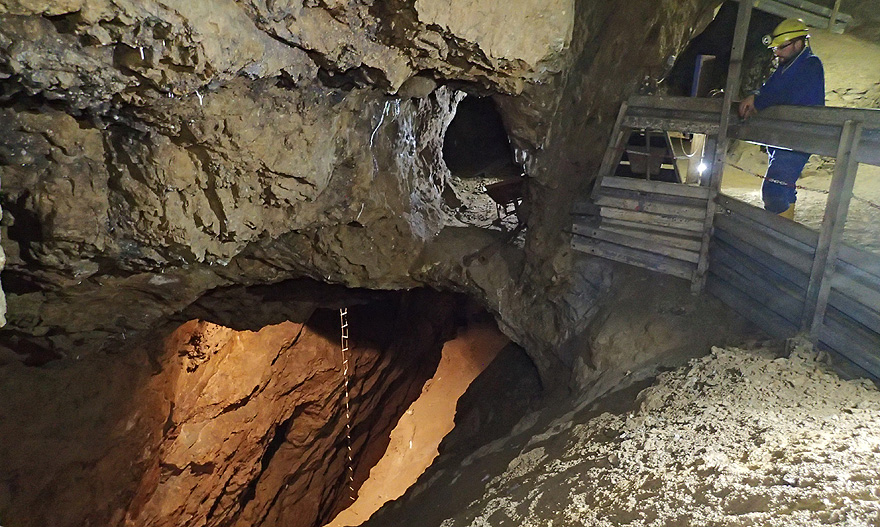 2.5-hr Special Tour for up to 15 persons 315 €, each additional person +21 €
Discount: 20 €/ person for groups of 30 persons or more
3 levels, among the best in Europe, altitude difference of 48m
Our most extensive special tour encompassing all three publicly accessible levels. After an expert introduction to the Gegentrum II gallery (+1,189m), you will descend over 6 ladders and 23 vertical meters to the Gegentrum III gallery with narrower areas which were excavated 500 years ago using hammer and chisel. There you can admire an original 250 year old wooden water pump as well as wooden rails for the "mine carts" of that time. You will visit the modern 5th field section (5th FK) where you can see a mined vein (mining depth 60m). A pneumatic hammer drill will be demonstrated here.
Afterwards you will experience another descent using 7 ladders and covering an altitude difference of 25m to the 4th FK, the deepest level of our tour area. Here you can experience the "holiday apartment" lounge. The view into the largest excavation cavity in corridor III with the new steel bridge is particularly spectacular. In corridor VI which hasn't been fully mined (mineral find), you can also see the two main ores sphalerite and argentiferous galena as well as the "luxury toilet". At the end of the tour we will offer you a taste of pit Schnapps.
The route has a total length of 1.800m and includes descents and ascents over a total of 13 solid sloping ladders (length 2-6m). These are offset from one another and bridge a total of 48 vertical meters.
A premium experience: This makes the Schauinsland one of the best European visitor mines – nothing left to be desired in terms of a perfect all-round adventure for any mining enthusiast!
You can easily book special tours by email, phone, post or fax.
You will receive an electronic reservation confirmation / invoice with VAT shown separately. The booking becomes effective as soon as payment is received.
Special tours always require a fixed booking and prepayment.
Bookings can be made by email, phone, post or fax and are only accepted if they include a full postal address and mobile phone number.
Provided time slots are available, special tours and reservations can also be booked at short notice at the office or by telephone using a credit card with a valid expiry date. Nevertheless, we recommend booking in good time to ensure that your desired dates are available. For special tours / reservations, customer cancellation with reimbursement is possible up to 7 days before the booked date.
 
 
FGS 12/2021