Standard 1.5-hr Tour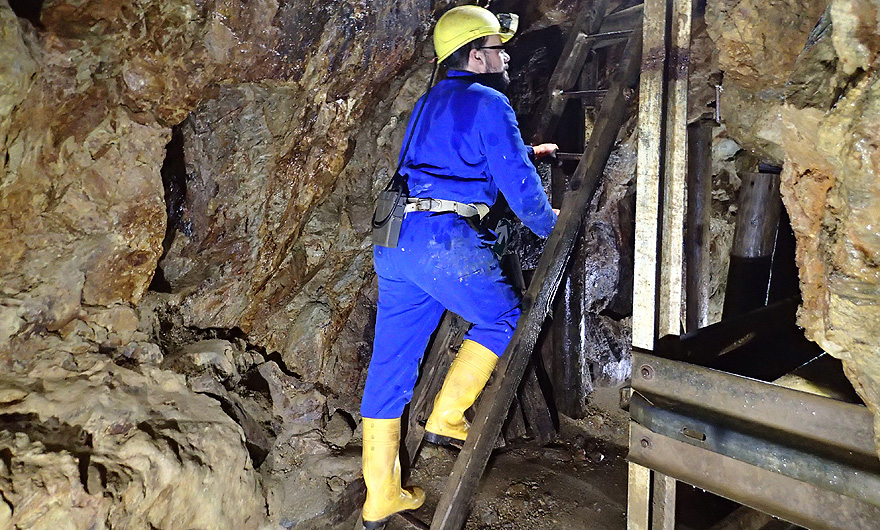 Opening times
Our 1.5-hr tours run every Wednesday, Saturday, Sunday and on public holidays during the entire season from Easter + from 1 May until the beginning of November (including high season), always at 11:00 and 14:00.
Recommended minimum age 12 years, in exceptional cases from 10 years
1.5-hr tour 15 € per person
Please note that we do not accept credit or debit card payments on site!
 
1.5-hr Tour
In addition to the Gegentrum II gallery there is a descent via ladders to the next lower level, the Gegentrum III gallery with narrow sections that were excavated 500 years ago using hammers and chisels. There you can admire an original 250-year-old wooden water pump and wooden rails for the "mining carts" of that time. Also included is a visit to the modern 5th field section (5th FK) with a mined ore vein (excavation depth 60m). A pneumatic hammer drill will be demonstrated here. The route is a total of 1.000 m long and includes descents and ascents via 6 solid, sloping ladders (length 2-6 m). These are offset from one another and bridge a total of 23 vertical meters.
With ladder descent: Take a journey through time into the middle ages of mining!
Also available as a gift voucher.
FGS 12/2021