Special 1.5-hr Tour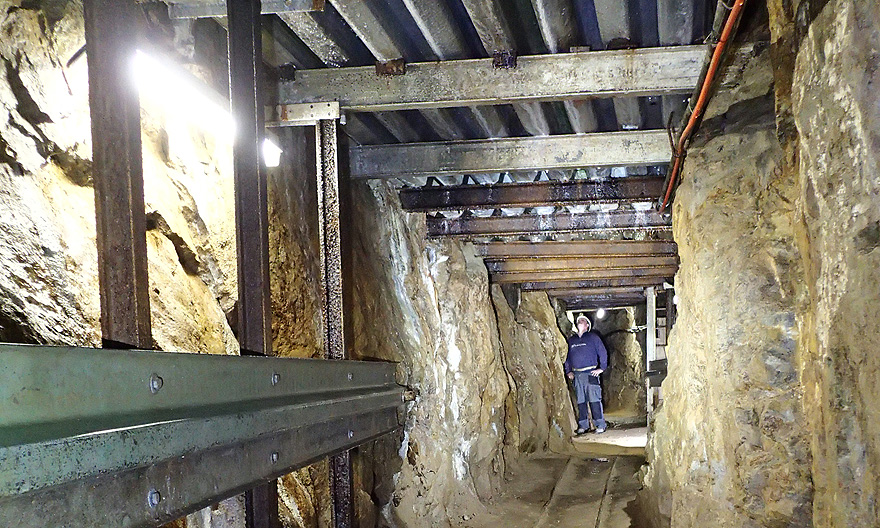 1.5-hr Special Tour for up to 20 persons 280 €, each additional person +14 €
Discount: 13 €/person for groups of 50 persons or more
2 levels, 800 years in just 90 minutes, altitude difference of 23m
The medium-length special tour takes place under expert guidance and includes a descent from Gegentrum II gallery, using 6 ladders and covering an altitude difference of 23 meters to the next lower level with narrower sections that were excavated 500 years ago, using hammer and chisel. There you can admire an original 250 year old wooden water pump as well as wooden rails for the "pit carts" of that time. Also included is a visit to the modern 5th field section (5th FK) with mined vein (mining depth 60m). A pneumatic hammer drill will be demonstrated here.
The route is a total of 1.000m long and includes descents and ascents via 6 solid, sloping ladders (length 2-6m). These are offset from one another and bridge a total of 23 vertical meters.
With ladder descent: Take a journey through time into the middle ages of mining!
You can easily book special tours by email, phone, post or fax.
You will receive an electronic reservation confirmation / invoice with VAT shown separately. The booking becomes effective as soon as payment is received.
Special tours always require a fixed booking and prepayment.
Bookings can be made by email, phone, post or fax and are only accepted if they include a full postal address and mobile phone number.
Provided time slots are available, special tours and reservations can also be booked at short notice at the office or by telephone using a credit card with a valid expiry date. Nevertheless, we recommend booking in good time to ensure that your desired dates are available. For special tours / reservations, customer cancellation with reimbursement is possible up to 7 days before the booked date.
 
 
FGS 12/2021