Special Trips and Prices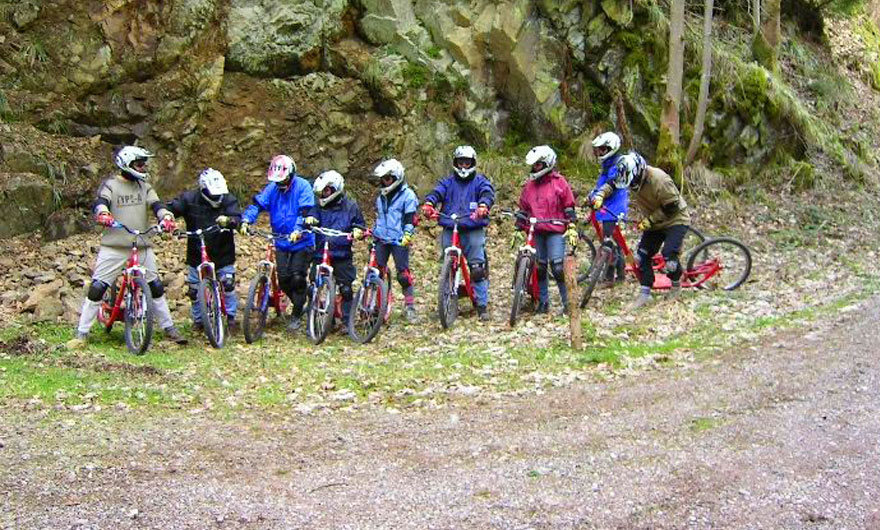 Special trips are available outside of the regular scooter times from
1st May to 1st November at 11am, 2pm and 5pm
for groups of up to 50 persons (upon prior reservation).

| | | |
| --- | --- | --- |
| Up to 10 persons | € 280 in total | |
| Each additional person | € 28/ person | |
All prices include VAT.
It is only possible to pay by cash at the mountain scooter issuing point, EC or Credit cards are not accepted!

Scooters are only available at the top of the Schauinsland at the scooter issuing point at the back of the mountain station. This is where you will also find our roller-guide for special trips a few minutes before the respective start time.
Prices include protective equipment (helmet, elbow- and knee protectors, gloves and roller-guide accompaniment).
Minimum age of 12 years +, minimum height of 150cm (to ensure safe operation of the scoot-er). Maximum weight 120kg.
Experience has shown scooter trips to last around 90 minutes, including getting changed prior and following to the ride. This can however vary considerably and take more or less time. For groups of 15 or more, it's better to allow 120 minutes to complete the trip.
Special trips take place either at 11am, 2pm or 5pm (due to the time it takes to return scooters to the top) in a private group accompanied by a scooter guide. Special trips and reservations always re-quire a firm booking and advance payment as it is necessary to have additional personnel on site. Trips can however be cancelled for a full refund up to 7 days before the arranged trip date.
In the event of bad weather (rain or snow) leading to the cancellation of scooter trips, we will refund the prepaid amount. We alone carry the weather risk. The traffic light symbol does not apply to spe-cial scooter trips.
If trips need to be cancelled at short notice owing to bad weather, we offer a special service for those who have booked a special trip / made a prior reservation: If you like, we invite you to go on an ad-venturous, weather independent, 2 ½ hour (or shorter) tour through the Schauinsland Mining Muse-um instead, where you can explore the mine and climb its ladders equipped with your own miner's lamp.
It's simple: Bookings can be made by phone, fax or mail – immediate confirmation of your reservation and invoice (with VAT stated separately) will be sent to you.
In order to make a booking we require your postal address and mobile phone number. The booking is confirmed upon transferal of the invoiced amount. Special trips and reservations are also possible at short notice if capacities allow it, and can be paid for in cash at the office in Freiburg. We nevertheless recommend that you book early to ensure you are able to enjoy your scooter trip at your desired time.
Please note
All necessary requirements can be found here.
Scooter trips begin promptly at the agreed start time at the back of the top cable car station where scooters are issued.
For your safety
Before each scooter trip participants receive a basic briefing regarding our high-tech scooters. Safety equipment including helmets, elbow- and knee protectors and gloves will be provided. For reasons of safety, participants go down in loose groups followed by our knowledgeable guide who is able to assist with punctures or break-downs.
A suggestion for environmental protection
The Schauinsland cable car, the longest continuous cable car in Germany, is a special event in itself. Make good use of price reductions available if using both the Schauinsland cable car and the scoot-er rides:
Schauinsland cable car tickets: € 7,50 instead of € 9,50 (for scooter trips)
Regular scooter trips: € 28 instead of € 30 (with a Schauinsland cable car ticket)
We recommend using the Schauinsland cable car.
The scooter ride is weather dependent: in rain or snow it is not possible to use the track because of limited traction. If the scooter ride is not possible due to weather conditions (rain or snow), we will refund the prepayment immediately; we alone bear the weather risk.
The traffic light does not apply to special trips.
Use our current weather information and the webcam image from the upper part of the scooter track.
FGS 02/2022