Frequently Asked Questions FAQ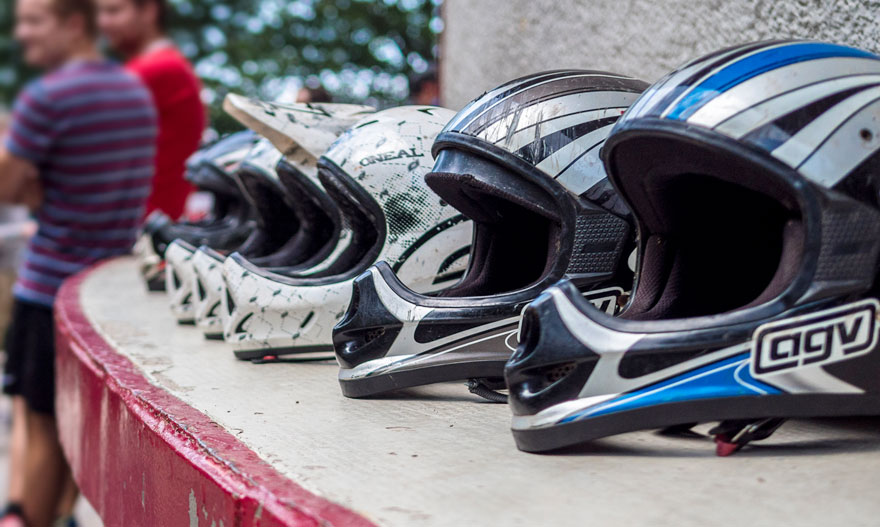 Since 2006, we have been running the scooter track and as such gathered a lot of experience. Here are a few of the most common questions asked by our customers. If you have any other queries, we'll be happy to respond on our
Telephone Hotline +49 (7 61) 2 64 68 Tuesday-Sunday from 10am.
GENERAL QUERIES
Is a scooter trip dangerous?
No, no more dangerous than other sports activities. The thousands of enthusiastic scooter riders who have not suffered any accidents are testament to this. Nevertheless, it is necessary to stick to the requirements, use appropriate safety precau-tions, operate the scooters correctly and adjust the driving style to one's own ability.
Can people who are not particularly sporty take part?
Yes, normal levels of fitness are sufficient. We only dissuade those who aren't sporty at all.
I've never ridden a bike, can I ride a scooter?
In this situation we advise against a scooter trip
What happens in relation to inconsiderate behaviour and deliberate damage to the scooters?
Those who damage the scooters on purpose are liable for the damage and are excluded from the remainder of the scooter trip immediately. The same applies to inconsiderate behaviour.
I want to scooter down to the valley after a couple of beers, is that allowed?
You will certainly not be given a scooter and will instead have to walk down or phone for a taxi. Highly intoxicated people will not be taken by the Schauinsland cable car either.
Is it possible for anxious people to take part in a scooter trip?
Generally yes, since the speed can be altered to suit each individual's wishes. We are patient and experienced in working with all kinds of people.
I have changed my mind and no longer want to scooter down or it is starting to rain. How do I get back to the valley cable car station?
Speak to us. In these situations the Schauinsland cable car offers a reduced price for return journeys.
The scooter trip was lots of fun and I'd like to go again right away. Can I?
We advise against doing this, as a scooter trip is physically demanding, particularly for beginners. In addition, on a second trip participants may be more aware of the risks and scooter down more aggressively, which in turn leads to a higher risk of acci-dents. We will however be happy to welcome you again another time.
Can I carry a rucksack with me on the scooter trip?
Only if it does not restrict you in any way. We advise against carrying rucksacks and bags and recommend using the cable car to transport such items.
Can the downhill scooters be rented out for places other than the Downinsland Scooter Track?
No.
Why do you not offer more regular scooter trips?
This is a question of supply and demand. In low season May + June there's not that much demand. This is a compromise, but essential for an economical operation of the scooter track.
We do however offer the option of additional bookings for special trips at 11am, 2pm or 5pm on any day during the whole sea-son from 1st May – 1st October for which the scooter track will be activated just for you. This enables even smaller groups to use the track on their desired date, at affordable prices..
Can the scooter trip be interrupted to have a picnic?
No, the timings do not allow for such interruptions.
Are special scooter trips possible between 1st November and 30th April?
It depends – The scooter track is leased from the town of Freiburg and is used for forestry work in the winter period. If during November or April the weather is good and the forestry team have no objections it is always worth enquiring about the possi-bility of a trip for larger groups.
In our experience there is however often still snow in the forest in April, because we start at 1.220m and the scooter track runs on the north side of the Schauinsland.
HEALTH AND SAFETY
I had a serious operation not long ago and am convalescing.
Due to general life insurance, we advise against taking part.
What if I am 6 months pregnant?
Due to general life insurance, we advise against taking part whilst pregnant.
I am unable to move one hand correctly due to an injury.
In this case it's not possible to take part in a scooter trip as both hands and feet are needed in order to operate the scooter safely.
What first aid is available in the event of an accident?
Our scooter guides are trained in first aid (immediate emergency measures at the scene) and carry bandages and dressings in their emergency rucksacks, as well as a mobile phone.
Is there a safety check for the scooters?
Every time the scooters are returned back to us at the cable car valley station, we immediately check each one for possible damage. Scooters with defects (e.g. worn-out brake-discs) will be taken out of use and repaired. Furthermore, there will be an additional check of brakes, condition of tyres and air pressure before the scooter is issued again at the top cable car station.
Are there strict rules about minimum age requirements?
Yes, 12 years and a height of at least 150cm are required for scooters. It is an athletic activity that might be too strenuous for children and we carry business liability.
Guardians do not have to scooter down with minors but they do have to make the payment, otherwise we require an infor-mal consent form.
Can traction be improved by deflating the tyres?
Totally wrong! With our extensive experience we choose the correct tyre pressure for the off-road use of our downhill scoot-ers and monitor it regularly. Deflating does not improve traction; it endangers the scooter user and can often cause a punc-ture. Doing so constitutes wilful property damage and endangers the user!
How hygienic and well maintained is the safety equipment?
We provide balaclavas for use under the helmets, which are washed after each use. The safety equipment including protec-tors and gloves is subject to lots of wear and tear and along with the helmets, and items are discarded every few years.
TIMINGS AND ORGANISATION
We are coming from far away specifically to go on a scooter trip and want to make sure we can get 5 scooters.
Telephone ahead to ensure scooter availability, if in doubt, you can pay in advance to make a reservation.
How long before the start time will the scooter guide be at the scooter issuing point at the mountain cable car station?
The scooter guide is generally there 15 minutes beforehand, provided of course there are no urgent repairs needed or delays with the return of scooters. In case of special trips he will be there a few minutes in advance.
Including getting changed before and after, how long does a scooter trip take?
Experience has shown trips to last around 90 minutes for groups of up to 15 people, although this can vary and be consider-ably more or less. For groups of 15 or more it is better to allow around 120 minutes.
Why do you offer scooter trips at 11am, 2pm and 5pm only?
The reasons are organizational: transporting scooters and protective equipment back to the top station by cable car takes time. The 3 h-interval is well-matched to these operational necessities. Additional times would block the scooters for two start times and we would need another scooter guide. If operationally possible, we make exceptions for early bookings outside the main season, at an increased price to cover additional expenses.
How many times have scooters been sold out in recent years?
Only a few times and only for 2pm rides. Relative to a total of more than 100 days of operation of the scooter track that is not a significant number. The fact that we do not overbook really does pay off.
We have booked a scooter trip and will be using the cable car to get to the scooter track. Is there a discount for scooter riders?
Yes, for regular scooter rides there is a reduction of 2€. But not for special trips or reservations, then you can get a discount for the Schauinslandbahn instead.
Can we join another special scooter trip?
No, as special scooter trips are usually booked by works outings or private groupspreferring to keep to themselves. We cannot just add people unknown to them.
Does the cable car offer price reductions if we booked a scooter trip?
Yes, 7,50€ instead of 9,50€, meaning a 2€ discount for adult tickets. For young people up to 14 years the mountain journey costs €6,50.
What's the most cost-effective way to reach the Schauinsland for scooter rides?
On foot, by carpool or by SBG bus line 7215 starting from Kirchzarten train station or Freiburg Hbf (main train station) on which you can use the "Regiokarte". Between the middle of May and the end of September this bus line goes all the way to the top cable car station nearly every hour on Saturdays, Sundays and Bank Holidays.
We recommend the cable car.
Why is it recommended to book in advance for special trips?
Recommendation: try to book 6 weeks in advance in high season from July onwards, to prevent your preferred date from already being fully booked.
Is there a reliable weather forecast for the Schauinsland mountain?
In our experience, the Kachelmann weather forecast for the Schauinsland is quite reliable. Together with the webcam with a view from the Schauinsland mountain station over the upper part of the scooter track, this facilitates the preparation for a scooter ride.
For more information, see Current News.
What does the price of a scooter trip consist of?
Personnel, costs of assets and depreciation, advertising, and minor administration costs. The wear and tear of the scooters (yearly use consists of: around 250 pairs of brake pads, 80 brakes discs, 150 tyres/ inner tubes), protective gear and track maintenance lead to high costs. Additional costs which are not immediately noticeable include insurance, return transporta-tion of the scooters using the cable car and the yearly lease payments to Freiburg Forestry Office for the use of the scooter track, although we pay for the maintenance of the track ourselves.
Without the idealism of the entire scooter team it would not be possible to offer scooter trips at these prices.
DURING THE SCOOTER TRIP
What do I do if I get a puncture or have an accident?
Always stop immediately and phone the telephone hotline on +49 (7 61) 2 64 68 (written on all signposts for each section) on your own mobile. If on Sundays and Bank Holidays the hotline happens to be unavailable, phone the Schauinsland Mining Museum on +49 (76 02) 92 04 68 and arrangements will be made. It is therefore important to note which section you are on so you can be reached quickly. You must remain on the track while waiting for help.
I can't see any more signs. Have I got lost?
Stop immediately and retrace your route with the scooter until you have reached the scooter track, recognisable by the signposts for each section, spaced around 200m apart. If you have lost all sense of direction, phone our telephone hotline using your mobile phone, or if in danger, call 112 to make an emergency call.
I've had an accident. Should I continue?
It's better not to continue after a serious accident. You may have internal injuries or the scooter may be damaged and no longer safe to ride. Inform Forschergruppe Steiber using the telephone hotline +49 (7 61) 2 64 68 or – if hotline not reachable on Sundays and Bank Holidays – phone the Schauinsland Mining Museum on +49 (76 02) 92 04 68.
We've booked a special trip but the traffic light is red?
This traffic light only applies to regular scooter trips!
If a special trip needs to be cancelled due to bad weather, we will contact you at short notice. This is why it is important to give us your mobile number when booking, so that we can reach you in the event of any changes. Please phone the hotline on +49 (07 61) 2 64 68 from 10am if you are uncertain.
Under what circumstances will scooter trips be cancelled due to bad weather?
Our highest priority is your safety! For this reason we will never ride if there is reduced traction due to heavy rain. If there is only light rain or it just started raining (so the scooter track is not yet very wet), the trip can take place without safety restrictions. Due to the rather small mudguards, a jacket and safety glasses for your protection will be useful – this is your decision. If the scooter trip is cancelled by us because of bad weather conditions, your payment will of course be refunded immediately. You do not risk losing your prepayment due to bad weather.
I'm waiting for the breakdown service. Why is it taking so long?
Please be patient, the scooter guide rides at the end of the group and as such it can take time to reach you, especially in a large group.
Is the record for the fastest scooter trip really just 10:15min?
There's no straight answer to that! We can however say that the sound barrier is still intact…
FGS 02/2021